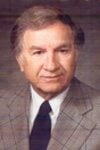 J. Woodrow Counts
1979 - 1985
James Woodrow Counts grew up in Bynum, Texas, and graduated from Bynum High School. He attended Hill Junior College in Hillsboro and North Texas State College in Denton where he received both a bachelor's and a master's degree. Woody, as he was nicknamed, served as a Lieutenant in the Navy during World War II.
On September 1, 1949, Counts was employed as a basketball coach at Arlington High School. In July 1951, he was named principal of Speer Elementary. In June 1954, he moved to Central Office as an administrator and became Arlington ISD Superintendent in July 1979.
Mr. Counts was a member and past president of the Arlington Library Board, member and past chairman of the Board of Stewards of the First United Methodist Church, member and past president of the Kiwanis Club, and member and past president of the Tarrant County Administrator's Association. He was also a member of the Texas Association of School Administrators, National Educators Association, and Texas State Teachers Association.
Counts retired on June 20, 1985, and the AISD administration building was named in his honor. Counts died on Oct. 17, 2006, at the age of 90.