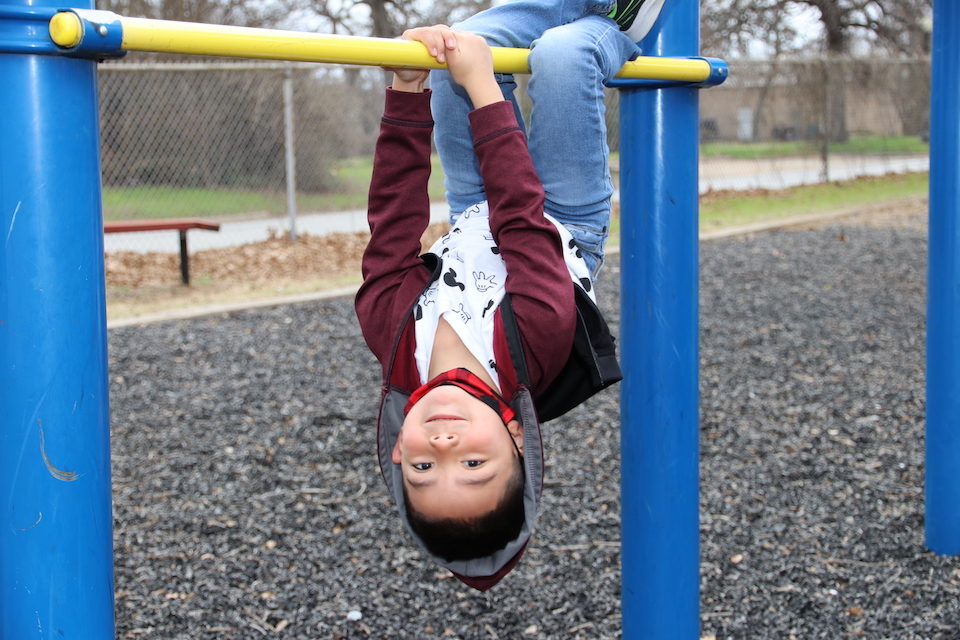 The First day is coming soon!
It's coming fast – that first day of pre-K. That day when you can't believe your child – your baby – is already old enough to go to school.
It'll be an emotional day for every parent and tears are pretty common (from parents). But whether you shed a few tears because you can't believe your baby is already this big, or your tears flow from joy because you so desperately need a parenting break (or some of both), that first day of pre-K – and, in fact, every day of pre-K – will be a good day.
You'll probably be a little sad on that first morning when you leave your child at school and drive away with an empty car seat. But you'll also feel good because you'll know you made the right choice to give them a head start.
If you're considering a pre-K program for your child, we want you to pick the Arlington ISD. Here are just seven of the many reasons the Arlington ISD is the best choice for your child.
Love
No one can love your child like you do, but you might be surprised how close your child's pre-K teacher comes. When your child joins our pre-K program, they (and you) become part of our family. To our pre-K teachers, your child is not merely a student in their class. Our teachers treat students as though they were their own, quickly developing tight bonds.
Our pre-K teachers – all of them certified in early childhood education – are a special breed. And they'll do whatever it takes to help their "kiddos" succeed.
"Pre-K teachers teach pre-K because they have a passion for young children," said Kelly Schrader, pre-K team leader at Miller Elementary. "They eat, breathe and sleep pre-K. There is nothing better than getting to see your students' faces every day. The love between pre-K teachers and their students is indescribable."
Fun
Your child will want to go to school because it's fun! They'll experience arts and crafts, singing and dancing, reading books, playing dress-up, making believe, exploring, creating, and so much more!
"Exploration and creativity are embedded in all of our pre-K lessons," said Dr. Jackeline Orsini, Arlington ISD director of early childhood learning. "It's a really fun time."
Learning
The fun ties right into the learning and that's because Arlington ISD makes purposeful play a big part of every day.
"We know that children are naturally curious. They are fascinated by how and why things work," said Nynve Sanchez, a pre-K teacher at Crow Leadership Academy. "When we combine play by building sensory-rich experiences for students to explore, discover and ask questions, it develops the natural curiosity they have as children into becoming life-long learners.
"Play provides the vehicle for students to be able to grow and develop many skills," she added. "By exploring and playing, they can build their social and emotional skills, fine motor skills, problem-solving skills, vocabulary and gain the confidence to try new things, making them more independent."
Safe
None of the fun and learning matters if safety doesn't come first. And it does in the Arlington ISD. It's about clean buildings and safe equipment and supplies. It's about school security systems, policies and consistent, loving adult supervision. All of these are things we do well.
Playgrounds
Playgrounds could have gone in the fun category, but considering how important a good playground is to a three or four-year-old, it deserves its own. And while Arlington ISD's elementary schools already have good playgrounds, each school is getting two new and better ones funded by the 2019 Bond. One of those two will be purposefully built for your child, for kids pre-K through first grade. The playgrounds will be fully accessible so that every child can enjoy them. They will include shade structures and rubber surfaces which means more fun and improved safety.
Free
Arlington ISD is free for students who qualify. To qualify, students need to meet at least one of the following eligibility requirements:
Unable to speak and comprehend English
Economically disadvantaged – eligible to participate in the national free or reduced-price lunch program
Homeless
The child of an active duty member of the armed forces of the United States or a member of the armed forces who was injured or killed while serving on active duty
Is or has ever been in foster care
Child of a person eligible for the Star of Texas Award
If you don't qualify, Arlington ISD also offers paid pre-K at 17 schools. Priced considerably less than other options, Arlington ISD is not only the highest-quality option but also the most affordable.
Options
Arlington ISD offers half-day pre-K classes for three-year-olds, full-day for four-year-olds, ESL and bilingual pre-K options. We also have free and tuition-based programs and even a unique pre-K program that partners with Head Start to foster child development along with parent support resources.
If you work outside the home and need full-day childcare for your three-year-old, our community-based pre-K is the answer. Students get seamless, convenient daycare both before and after the half-day pre-K programming without ever having to leave and go to another care location. Plus, the pre-K program is taught by a certified Arlington ISD teacher with the same outstanding play-based curriculum, materials and technology used at all of our schools.
Deciding where you send your baby to pre-K is a big decision. If you're ready to register and get started with Arlington ISD or want to learn more, please visit aisd.net/prek. And if you have more questions or concerns, we understand and want to help. Send us an email at pre-kquestions@aisd.net or give us a call at (682) 867-9418.
The first day of pre-K will be here before you know it. We can't wait to meet you and your child!