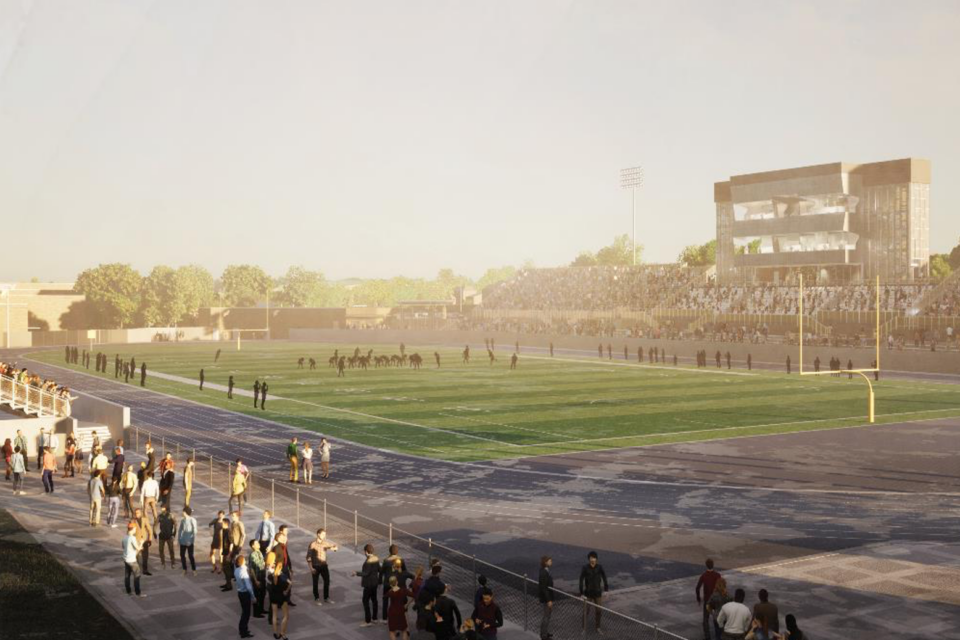 Arlington ISD will host a public information meeting about the future Glaspie Field on Wednesday, Oct. 13, at 7 p.m., at Martin High School's Little Theatre. The meeting will address parking, traffic, lighting, sound, and separation from the residential neighborhood (fencing).
 The future Michael Glaspie Field Athletic Complex is a Bond 2019 project that will renovate the existing practice field at Martin High School and convert it into the Arlington ISD's third competition field.
The new athletic field at Martin was included in the 2019 Bond because the district needs three competition fields for its six high schools. Arlington ISD owns Wilemon Field at Sam Houston High School and Cravens Field at Lamar High School, but it rented UTA Maverick Stadium for its third competition field. However, Arlington ISD no longer has access to UTA Maverick Stadium and needs a replacement competition venue. The new field at Martin will provide that third varsity competition field and serve as the home for Martin and Seguin high schools.
The new stadium, being designed by VLK Architects, will include approximately 10,000 seats, a larger press box, locker rooms, restrooms and concessions. Architects are being careful to consider the campus' existing layout, neighbors, traffic flow – cars, school buses and pedestrians – and parking in their design. They have included a landscape buffer and fencing between the stadium and neighboring homes and will utilize modern LED lighting. The LED lighting is significantly better than traditional lighting in that it can be directed into the stadium and onto the playing surface more efficiently, has considerably less spillage from the venue and can be turned on and off quickly.
The design will also feature the ability to transform the stadium according to which school is using it. With lighting, signage and technology, the stadium will shift to reflect the home team for that event, whether it's Seguin, Martin or any other Arlington ISD school.
If you have any questions about Glaspie Field, please submit them through this form. All questions will be addressed through an FAQ at aisd.net/bond2019/glaspie-field.