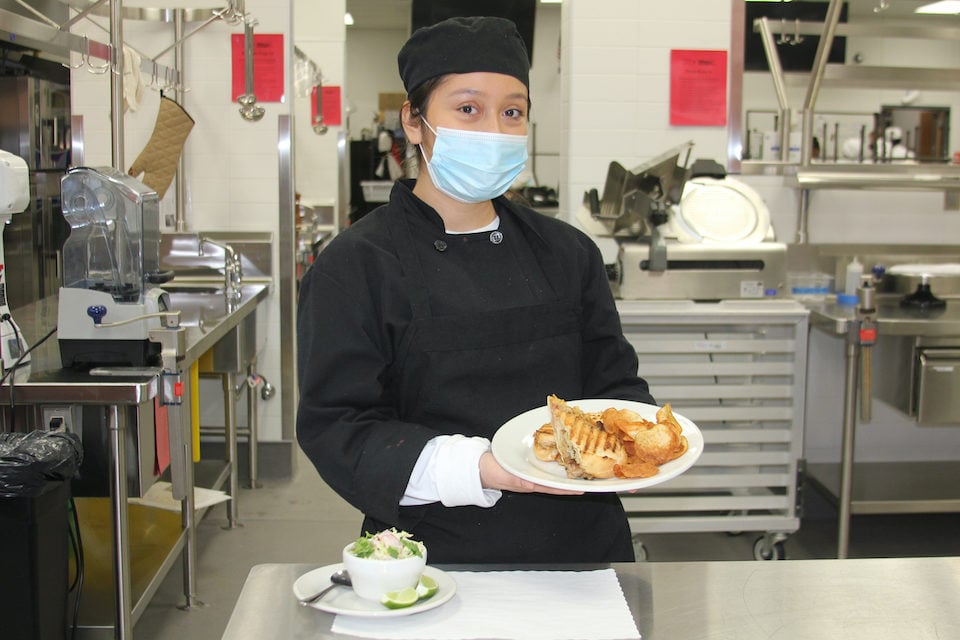 Pozole is the perfect cold-weather soup
Given what the weather is like outside, it's fitting that the culinary students at the Dan Dipert Career & Technical Center whipped up a Valentine's Day menu that includes pozole, a Mexican soup.
"It's the perfect cold-weather dish," said Alyce Monroe, who teachers culinary arts at the CTC. "This sounds like a great recipe because it's spicy. You can add some spice for you and your family for Valentine's Day. Bring the spice and warm up your family."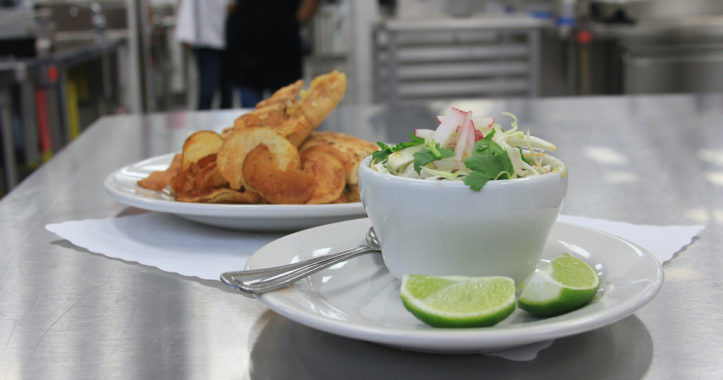 Students from the advanced culinary class, taught by Chef Alemendarez and Chef Chavoya, worked up a pozole recipe, a Cuban sandwich and red velvet swirl brownies for the perfect Valentine's Day treat. And it worked well with their studies.
"Right now they're working on Latin American cuisine," Monroe said. "This goes along with the TEAKS and what they're studying right now. I don't think the recipe for pozole is tough. I would say it's medium difficulty. There's a lot of chopping."
While the CTC students have no problem whipping up recipes for Valentine's Day, the culinary business that students run out of the CTC has been impacted by the pandemic. Culinary students typically feed outside customers through their bistro as well as cater events.
"We were really building a following with the bistro," Monroe said. "We had eight to 10 customers from outside the school. The pandemic has also killed our catering program. The kids are still learning a great deal, but they are missing out from a customer service and food service standpoint. We've had to be a little creative as far as checking that box."
Students still are providing opportunities for the public. Horticulture students made arrangements for Valentine's Day, and culinary students made cookies, brownies and cake pops as well as king cakes for Mardi Gras. While that deadline has passed, you can still find out when there are other opportunities by emailing Monroe at amonroe@aisd.net to get on the mailing list. You can follow them on Instagram at dipert_bistro_at_ctc.
Red Velvet Swirl Brownies
1 stick unsalted butter
1 cup sugar
1 teaspoon vanilla extract
1/4 cup cocoa powder
Pinch of salt
1 tablespoon red food coloring
1 teaspoon vinegar
2 eggs
3/4 cup all-purpose flour
1/4 cup chopped toasted walnuts
Cream Cheese Layer:
8 ounces cream cheese, softened
1/4 cup sugar
1 egg
1/8 teaspoon vanilla extract
Brownie layer: In a saucepan on medium heat melt the butter. Remove the butter to a large bowl and add the sugar, vanilla, cocoa powder, salt, food coloring and vinegar, in that order, mixing between additions. Whisk the eggs in a small bowl and stir it into the cocoa mix. Fold in the flour until lightly combined. Stir in the walnuts and pour the batter into the prepared baking pan, saving 1/4 cup of the batter for the top.
Cream cheese layer: Blend together the cream cheese, sugar, egg and vanilla in a medium bowl. Gently spread the cream cheese layer on top of the brownie batter in an 8×8 pan. Dollop the remaining brownie batter over the cream cheese layer. Using a skewer or the tip of a knife, drag the tip through the cream cheese mixture to create a swirl pattern. Bake the brownies for 30 minutes in a preheated 350-degree oven. Remove to a cooling rack and allow them to cool completely before cutting.
Pozole
3 lb. pork shoulder 
1 large yellow onion, quartered 
3 cloves garlic, sliced 
1 tsp. cumin seeds 
1 bay leaf 
Cut pork into two-inch cubes, season pork with salt and pepper. In a large pot over medium heat, add pork, onion, garlic, cloves, cumin seeds and bay leaf and add enough water to cover pork by 2 inches. Bring to a boil, then cover and reduce heat to a simmer. Let simmer 1 ½ hours, skimming foam off top. 
2 dried ancho chiles, stem and seeds removed 
2 dried guajillo chiles, stem and seeds removed 
Place dried chiles into a medium bowl and pour two cups boiling water over and soak 30 minutes. Place chiles and about ½ cup of their soaking liquid into a blender. Blend until smooth, adding more water as necessary. 
3 (15-oz.) cans hominy, drained and rinsed 
Add chile puree and hominy to pot with pork half way through cooking time. Continue to simmer, covered, until pork is very tender. 
Serve pozole with radishes, cabbage, lime and cilantro.