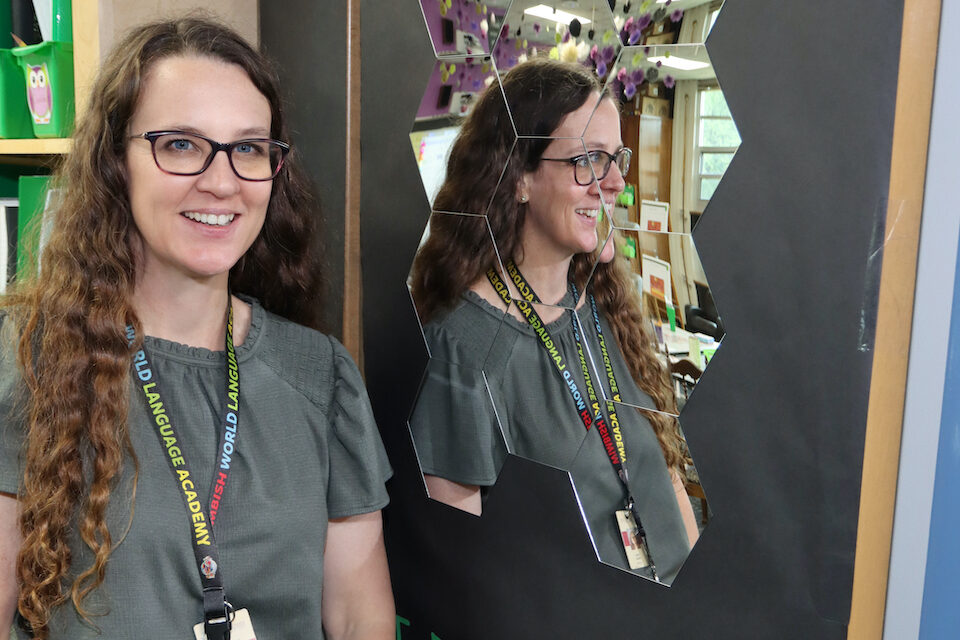 We might think of full-circle moments when reflecting on flare jeans and other fashion trends, but sixth-grade teacher Amy Shaw is showing us a much more meaningful depiction. The Arlington ISD teacher began her 23rd year of teaching in the exact same classroom she sat in as a sixth-grade student at Wimbish World Language Academy.
Shaw, who is a lover of linguistics and all things Harry Potter, attended then Wimbish Elementary, Shackelford Junior High and graduated from Lamar High School.
Can you take a wild guess where the Arlington native obtained her bachelor's and master's degrees? You guessed it – the University of Texas at Arlington. Needless to say, she calls the "American Dream City" home with much pride and passion.
The reading, writing and social studies teacher began her teaching career at Crouch Elementary, then later went on to Johns and Webb elementaries. She was an instructional coach for 10 years, but after realizing she missed teaching and daily interactions with kids, Shaw started teaching again – this time at her old stomping ground, Wimbish.
"I remember driving by Wimbish every single day, and one day I just said to myself, 'You know what? I'm going to apply there,'" Shaw said.
Eight years later and she is still raving about her school and the lasting impact it has on children. Wimbish World Language Academy is unique in that teaches the first half of the day in English and the second half of the day in a second language such as Spanish, Chinese or French.
"Even at a young age, I always knew I wanted to be a teacher," said Shaw. "I originally wanted to teach Spanish, but when I realized dual language was an option, I knew that was the perfect opportunity for me."
Being able to combine her love for cultures and literacy at Wimbish has continued to fuel her passion for teaching students about the world they inhabit.
"Every time we would study a new region in social studies, my sixth-grade class would always have a feast," said Shaw. "I can vividly picture eating falafels and other Mediterranean dishes for the first time after learning about the Far East, and today, it's still my favorite cuisine."
Shaw loved the lesson conclusions so much that she decided to continue the tradition in her own Harry Potter-themed classroom. Now, her kids can experience world cultures in her classroom, and they'll always have those memories to cherish and hopefully be compelled to explore life outside of the country they grew up in.
"My curriculum, the world cultures we study, is perfectly integrated with everything I love. It's my favorite things – language, food and the world."
The literature lover wasn't always the best at reading growing up, so she understands first-hand when kids struggle with the subject in her class. When she was an instructional coach and interventionist, she focused on helping fifth- and sixth-grade students who needed support with reading.
"My goal is to make students become better readers and writers, not just better test-takers," said Shaw. "I love that we can focus on creating more critical thinkers and problem solvers."
Diversity, inclusion and individuality are all topics that are not off the table in Shaw's classroom, because she prides herself in developing good people. She believes all students – not just students of color – need to be able to see all types of people, cultures, races and religions in text. When she reads to her class twice per day, she makes sure to choose books that are diverse and have great lessons to help them become better people and more passionate about the things they love.
Above all, Shaw is most passionate about teaching students to speak up and use their voices for those who cannot speak yet. She often has classroom discussions about making personal choices, standing up for what they believe in and learning to respect others' choices even if they don't agree.
"I wasn't always this vocal about standing up for my values and the things I believe in, but I learned I had to speak up for myself and the people that don't have a voice," said Shaw. "It's taken me a lot of years to get to this point, but some things are just more important than passing a test."
"When we teach kids to be vocal and support others around them, we inevitably create upstanders instead of bystanders."
Shaw is surely leading by example by pursuing her doctorate degree in human rights and social justice at Southern Methodist University in Dallas in the fall.
"Yes, I want my kids to be good readers and good writers," said Shaw. "But most importantly, I want them to be kind, better human beings and support all people."