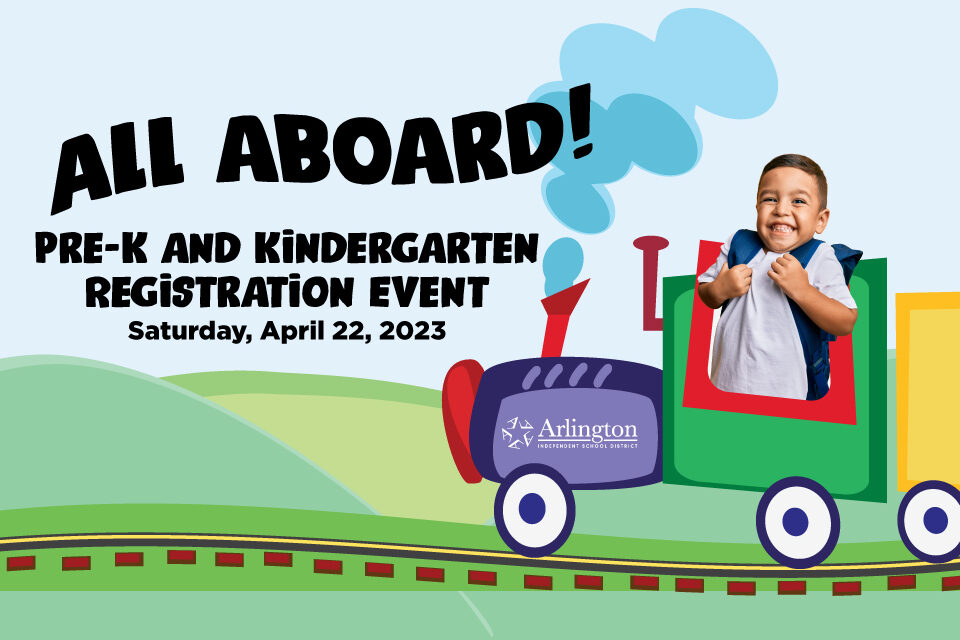 All Aboard for fun!
Can registering for school actually be fun?
Yes! It is if you're going into pre-K or kindergarten in the Arlington ISD and come to the All Aboard! registration event this Saturday.
The event at McNutt Elementary, from 10 a.m. – 2 p.m. on Saturday, April 22, is open to any family interested in signing up for Arlington ISD's best-in-class kindergarten or pre-K for 3- and 4-year-olds. Of course, there will be support from Arlington ISD employees to help with registration, along with resources and information from other district departments and community partners.
All of that is good. But then there is the fun!
Train rides, obstacle courses and games for your little learners! A photo booth, prizes, giveaways and free snacks. Plus, free backpacks filled with supplies for the first 50 to register. What better way to get your child excited to start school!
"This will be the perfect event to enroll your 3-, 4, or 5-year-old child before summer starts," said early childhood director Dr. Jackeline Orsini. "Arlington ISD will assist all families with the registration process while kids enjoy all the free things and events that we have planned for our future pre-K and kindergarten students."
Pre-K
Arlington ISD's pre-K has always been great, but it chugged to new heights this year. It's now free for all 4-year-olds! Plus, the play-based curriculum now incorporates STEM in pre-K 4. It's Full STEM Ahead! with science, technology, engineering and math!
Learn more about the district's pre-K programs for threes and fours, and register online at aisd.net/pre-K. You can also see what a day in the life of a pre-K student is like here.
Kindergarten
Fun is the name of the game in Arlington ISD's kindergarten. But it's a very specific, strategic kind of fun that inspires learning. Kindergarten students get a full day of excitement with lots of fun activities all aligned to a very strong curriculum. Learn more and register online at aisd.net/kindergarten.