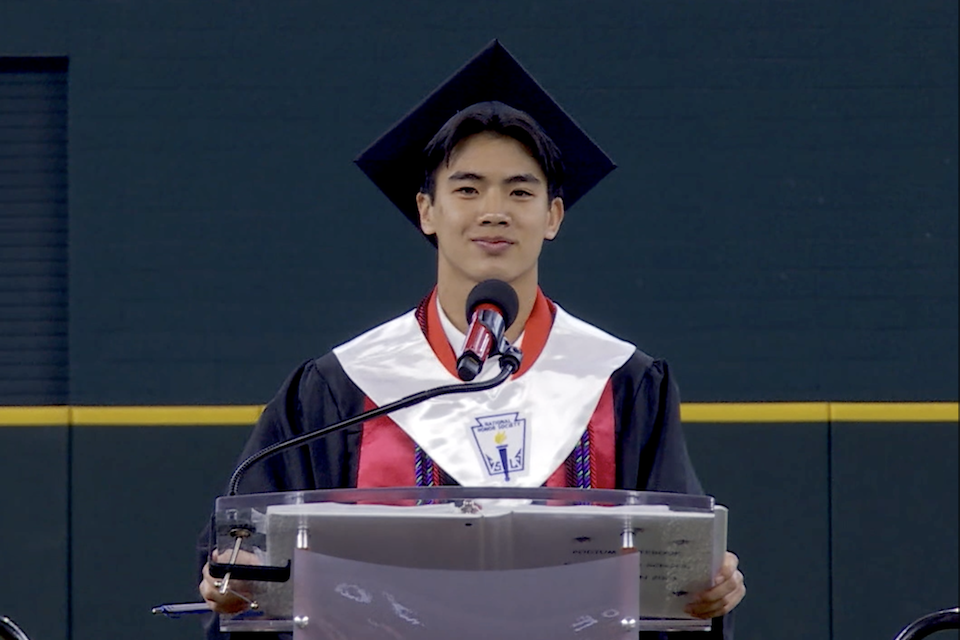 Students opt for military academies
Last month, thousands of Arlington ISD students ecstatically walked across a stage to receive their high school diplomas. Their parents, too, were overwhelmed with joy as their "babies" will soon leave the nest and head off to various colleges and universities this fall.
Some have enrolled at the University of Texas and Texas A&M University. Others will attend historically Black institutions like Atlanta's Morehouse College and Grambling State University in Louisiana. Or they will move thousands of miles away to the University of California at Los Angeles or New York University. 
But not all Arlington ISD seniors are choosing the traditional route to further their education. Some, like Asher Nguyen and Brett Hoelscher, are opting to attend U.S. military academies to kickstart their careers and serve their country.
ANCHORS AWAY
Asher Nguyen, now a Martin High School graduate, considered attending an Ivy League school or a local college to major in biochemistry to become a doctor. However, Nguyen said that his family's rich military history never stopped tugging at him.
"My father was in the Navy and my grandpa was in the South Vietnam Navy, so I always had a military background," he said. "My mother, however, introduced me to the prestigious academies and thought that I would fit in perfectly."
Nguyen said he discovered that the academies were "the place for me" during his junior year when he would watch YouTube videos about the different programs.
"I knew I could not afford the education of Ivy Leagues, so the military academies were the next best option," he said.
This past spring break, Nguyen learned that he was accepted into the U.S. Naval Academy, receiving a full-ride scholarship estimated to be $500,000.
"I was ecstatic. The Naval Academy was the first academy to accept me and I knew immediately that my future was set," he said.
This was quite the feat, as the Maryland-based Naval Academy – established in 1845 – has a rich history of educating and training distinguished leaders in the American military and public service. The online resource College Transitions reports that the Academy's acceptance rate is only about 8% – making it the most selective of all military schools.
Benefits of military academies
Nguyen had four other options to choose from: the U.S. Military Academy – more widely known as West Point – and the U.S. Merchant Marine Academy. (Both academies are in New York and were established in 1802 and 1943, respectively.) Then there is the U.S. Coast Guard Academy, which was founded in 1876 and is in Connecticut. Finally, there is the Colorado-based U.S. Air Force Academy, which was founded in 1954.
Terri Cheek, an Arlington ISD guidance and counseling secondary specialist, is amazed by the growing number of students who are enrolling in service academies.
"I am extremely proud of the students who have chosen to attend a military academy," she said. "It demonstrates these students' dedication, hard work and commitment to education, leadership and service."
According to Today's Military, a website produced by the United States Department of Defense, the five academies offer fully-funded tuition that includes books, board and medical and dental care. Students are in military uniform when on campus while taking traditional core classes. The programs emphasize the development of character through military-style training and regulation of conduct.
Because students live on campus, teachers have more time to help their students succeed in class. Graduates of all academies receive a Bachelor of Science degree and are commissioned as officers in their respective service branches. After graduation, Today's Military reports that students are obligated to serve a minimum of five years.
Competition to get into all the academies is fierce. Admission criteria includes strong high school academic performance, high SAT or ACT scores and athletics and extracurricular activities. Leadership experience and community involvement is also required.
At Martin, Nguyen maintained a 4.72 GPA and earned a 1470 SAT score, played varsity sports and participated in numerous extracurricular activities. He also held multiple officer positions, including senior class president. Because his Naval Academy classmates have also been hand-picked for their talents, Nguyen feels that his classes there will be both challenging and exciting.
"It will be fun. I thrive on competition, and I easily make friends," he said.
Off we go …
While attending Arlington High School, recent graduate Brett Hoelscher was also an honors student who was recognized for his citizenship. He served on the student council and in Key Club. Hoelscher was a member of the National Honor Society, was in orchestra, played golf and helped at his church. He even excelled as a participant in Arlington ISD's "What's Your Big Idea?" entrepreneurial contest since third grade.
All those reasons made the teenager a perfect candidate to earn a scholarship to the Air Force Academy. Yet, Hoelscher was shocked upon learning that he was accepted.
"I started jumping around with my dad and screaming so loud that the neighbors came to ask us if we were okay," Hoelscher said. "It felt amazing to know that all my hard work finally paid off."
Hoelscher's path to the military originated with some of his relatives who served in the Air Force. He was most inspired by his uncle, Mark Hoelscher, who was a fighter pilot and test pilot for 20-plus years. A 1991 graduate of the Air Force Academy, Mark retired as a colonel.
"His stories from all over the world were the 'soundtrack' to my childhood and spurred on my desire to serve," Brett said. "Once I heard my uncle Mark talk about his time there, I was hooked. So, from third grade on, I wanted to go to the Air Force Academy." 
Brett's high school credentials were so strong that he also got accepted to the Naval Academy. He said the decision was tougher than he anticipated.
"My final decision was based on my desired career field, and what the backup career fields would be in each branch," Brett said. "For me, I really did not want to be stuck on a cruiser or a submarine if I didn't get into Naval flight school."
Brett thought long and hard about taking the conventional route to higher education. He was accepted into Colorado School of Mines and Texas A&M. He "heavily considered" enrolling at the latter school where he would have studied aerospace engineering.
 "But I just knew that I couldn't pass up the opportunity to get a world-class education, in tandem with joining the best military in the world at the Air Force Academy," Brett said.
Brett can't wait for school to start. Although he admitted to being a little nervous about his next venture, he hopes it will turn into a 20-year career in the Air Force.
"I can't lie, discipline hasn't always been the easiest for me to deal with as I have grown up," Brett said. "But I have had amazing parents who have used discipline in all the right ways and shown me how to respectfully handle a situation where I am being disciplined.
"I definitely think that (learning at the academy) will be the hardest thing I have ever done. But I also think that it will be the most fulfilling four years of my life."