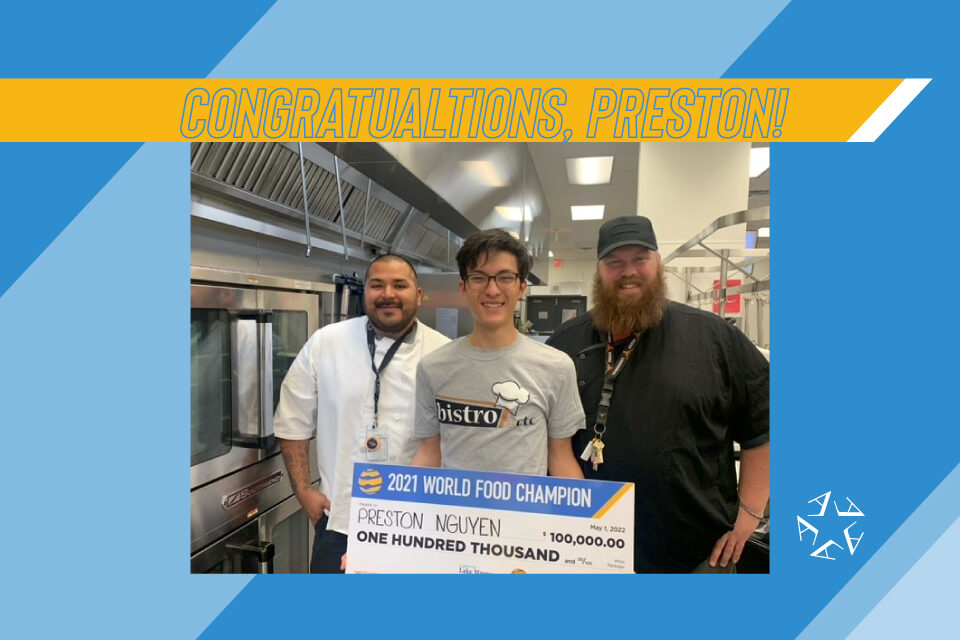 Going to Carolina
Who knew a dish of fried quail lollipops with a hot honey glaze, southern quail and dumplings, Carolina boiled peanut caviar, deviled quail eggs and Hoppin' John rich and thyme cornbread cake with peach butter was worth $100,000?
Preston Nguyen did.
That was the prize money handed to the 2021 Martin High School graduate who, along with his sous chef parents, won the World Food Championship (WFC) Final Table challenge in South Carolina, topping some of the most gifted chefs on the planet.
Nguyen, a Dallas College El Centro culinary, pastry, and hospitality program student by day and Rosewood Mansion on Turtle Creek cook by night, has secured his spot at that world's most culinary elite table.
Intense Adventure
Nguyen called it "a very intense adventure" as he advanced through a pair of daunting preliminary challenges. Other excellent chefs were eliminated from the competition, but Nguyen scored high enough to move on to the final.
"My Challenge 2 dish was not my strongest, and I thought I might not advance to the next round," he said. "But then, moments later, we did make it, and then later in the afternoon, when we won, it was the best celebration. We experienced the best and worst emotions all within a few minutes of each other."
Nguyen, 19, qualified for the Final Table by winning the chef category at the 2021 World Food Championships.
He and his parents, Peter and Emma Nguyen, did tons of brainstorming and testing with the bit of time Nguyen had left after putting in his school and work hours. Nguyen averages 55 hours a week at Rosewood, but he said his training there is instrumental in helping with his mechanical skills and speed.
"I also did a ton of research using cookbooks and watching as many southern food-related TV shows as I could find," Nguyen said of his preparation. "Between my parents and I, we put in hundreds of hours of practice."
Before and After
Early in his Martin career, Nguyen took some basic cooking classes. And living under the roof of two exceptional cooks, his mother and father, certainly inspired his culinary interests.
But when Nguyen started taking classes at the Arlington ISD Dan Dipert Career and Technical Center, his focus was on architecture.
Then, one day, while sitting at his desk staring at drawings and a computer screen, he came to a stark realization.
Life at a desk in an office of suits and drawings sounded far less appealing than one filled with fire, knives and constant movement.
So, he shifted his academic focus at the CTC from architecture to its culinary arts program.
Nguyen soon interned at Prince Lebanese Grill with owner Aziz Kobty, who found his gifts "extraordinary."
"He rocks," Kobty said. "He came into my place with a hunger to learn about not just food but the industry."
What now for Nguyen?
He plans to finish his training at Rosewood and travel and work on social media content this summer.
"Then back to college and more training at another restaurant in the fall," he said. "I would perhaps like to train in a restaurant in Europe or across the country at some point. I hope to have my catering business operational next year."
Then, he said, "a restaurant will be following soon after."