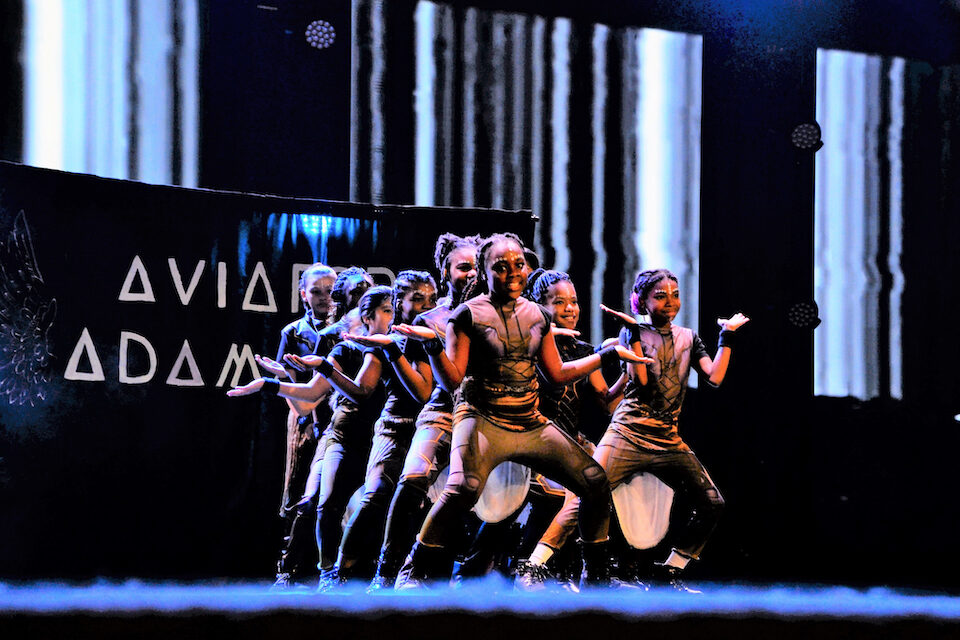 Martin Luther King Youth Extravaganza
It's not every day a government official heartwarmingly tells a crowd of people that he loves them. And then motivates hundreds of people to pause and shout, "I love you!" to a room full of strangers.
But after all, Monday was no ordinary day. It was a time to celebrate the birthday of the late civil rights leader Dr. Martin Luther King Jr. And Arlington mayor Jim Ross simply wanted to remind those who had flocked to Fielder Church Metro Center for the Arlington Martin Luther King Youth Extravaganza of King's strongest principles.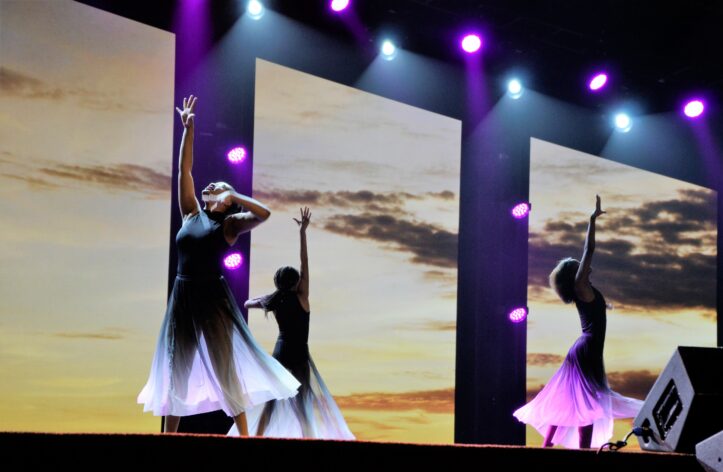 "Dr. Martin Luther King said that love is the only force strong enough to turn an enemy to a friend," Ross said. "And with all of the divisiveness that we see in the country – from race to politics – Dr. King understood, decades ago, that the answer to a healthy society is love."
To honor Martin Luther King's legacy, elementary students and directors representing 16 Arlington ISD schools spent weeks preparing to put on an amazing show bearing the theme, "Advancing the Dream: Moving Toward Unity, Justice and Peace."
Donning their new, crisp, white MLK T-shirts, the diverse, combined choir gave its all while singing various tunes about King's character and beliefs. Ditto Elementary's Ranger Choir beautifully sang Laura Farnell's "Be the Change."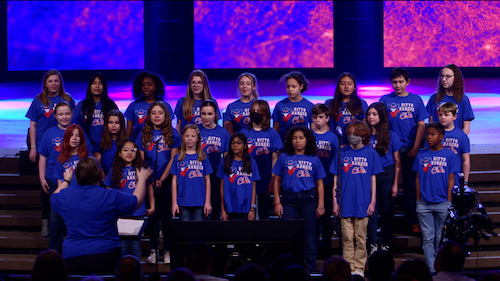 Members of the Remynse Elementary Drum Club thrilled the crowd by creating rhythmic patterns by tapping on tabletops to an arrangement of "Brand New Day" by Luther Vandross. Girls from the Step by Step Dance Studio Elite Team also performed liturgical dance moves to Mariah Carey's classic ballad, "Hero."
Arlington ISD Superintendent Dr. Marcelo Cavazos said he was especially proud of the youths' "dedication to serving," referring to their diligence to learn their parts in order to entertain and educate those who came out that night.
"These young people have learned something already that sometimes takes adults a long time to learn. And that is that service, above self, truly matters in this world," Cavazos said. "I'm so proud of the demonstrations of these kids and all of the students of Arlington ISD. Because we try to do that every single day in our schools."
Something for everyone
Hosted by Arlington ISD school board trustee Kecia Mays, the event concluded a four-day celebration that kicked off Friday with a gala held at the UT Arlington Bluebonnet Ballroom. A "Poetry Meets Jazz" affair – which, like the gala, was a paid event – wowed a crowd at the same venue on Saturday.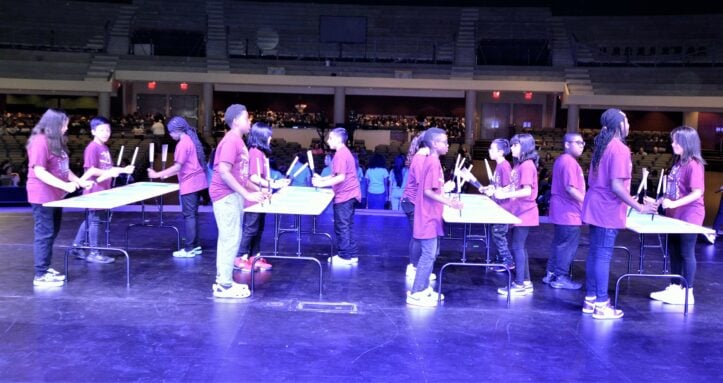 The weekend's free festivities included Saturday's step show and talent showcase at Bowie High School, as well as the Hubert Moss Ecumenical Service at Cornerstone Baptist Church on Sunday. Early Monday, many volunteered through the Zeb Strong Jr. MLK Day of Service at Mission Arlington and attended the MLK Day of Service Festival at the Arlington City Center Plaza.
Organized in 1989 and established as a nonprofit in 1990, the MLK Celebration has been an active contributor to the community for more than 30 years. The celebration's committee has given scholarships to graduating students, donated time and provided resources to the community while continuing to push forward the message and dream of Dr. Martin Luther King.
"It's my pleasure to get to work with all of these people each year for MLK," said Barbara Keaton, Arlington ISD's fine arts coordinator for elementary and choral music, who briefly spoke throughout the show.
Arlington ISD, the Arlington Ministerial Association, Tarrant County College Southeast Campus, the City of Arlington, and the University of Texas at Arlington are the event's founding sponsors. Keaton and the committee also appreciated much-needed support from Atmos Energy, the Arlington Police Department, Texas Health Resources and more.
Hip hop on display                
This year's Youth Extravaganza attendees were treated to a huge slice of African-American culture. The winners of that weekend's Step Show Contest – from both Nichols Junior High School and Adams Elementary School – provided emphatic Black sorority-style stepping. Some of the routines were performed over classic rap and R&B songs. The Adams group even incorporated a Black Panther-inspired stage backdrop and costumes.   
The guests were also surprised with the premiere airing of a high-energy, inspirational rap video called, "Wake Up! (Have S.W.A.G.)" by Antonio Young, a reading-language arts teacher at Ellis Elementary School.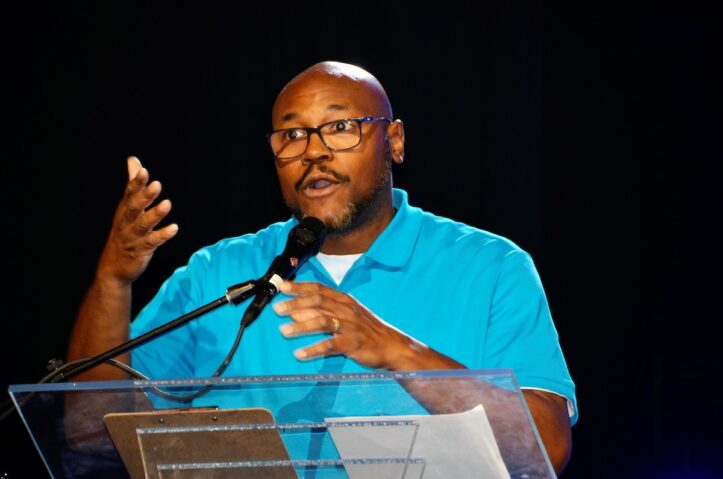 Since joining the Arlington ISD in 2019, Young has recorded and released nine educational and inspirational rap videos with the assistance of Arlington ISD's marketing and communications team. Their videos often feature Young's students, who rap, dance, sing, make props or portray fictional students. Some of the projects have garnered the attention of People Magazine, The Dallas Morning News and Access Hollywood television program. The videos even inspired the Dallas Cowboys to recognize Young as its first-ever Class Acts Teacher of the Month in October 2020.
Young, a 12-year teacher, also drew great applause after delivering an original spoken word poem titled, "We Need It! (Unity, Justice and Peace)." His verses encouraged the students to reflect on King's sacrifices to band together people of all races. Simultaneously, Young challenged them to work hard in school and to promote peace among their peers to further fulfill Martin Luther King's dream for a better America.
Cavazos echoed Young's sentiments in his opening address to the choir of students.
"I'm reminded today that education continues to be the great equalizer in our country," Cavazos said. "Because education advances us … to understand each other, live with each other, respect each other and, most importantly, get along with each other."