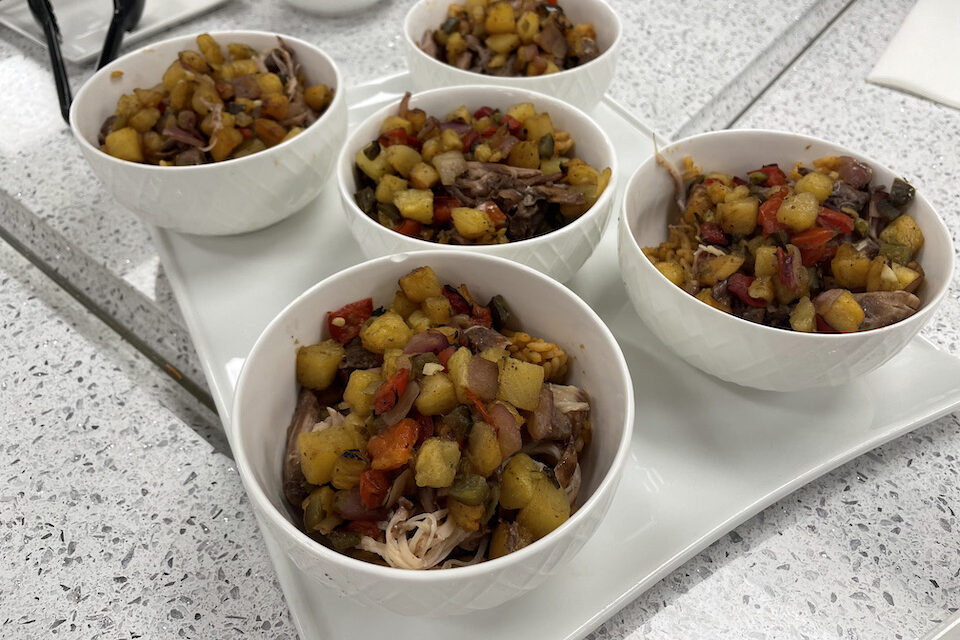 National School Lunch Week
Arlington ISD is known for being innovative, and it proves it time and again, from the classroom to the cafeteria. And sometimes, the innovation comes from both working together. That was proved this week with the launch of a new dish to highlight National School Lunch Week.
National School Lunch Week raises awareness of the benefits of healthy school meals. It's usually celebrated Oct. 11-14, but due to the student and staff holiday that week, Arlington ISD decided to honor it Oct. 17-21.
And while other districts may have celebrated with activity sheets and themed dress up days, Arlington ISD celebrated by adding flavors, spices and love to school menus. What better way to add some flavor than by launching a new menu item, the chicken carnita bowl. The dish is packed with flavor with Mexican rice, shredded chicken carnita meat and flame-roasted pineapple and red pepper blend.
The new menu item was inspired in the classroom by Amberly Craven's culinary students at Bowie High School, who created multiple meals to be taste-tested by Arlington ISD superintendent Dr. Marcelo Cavazos and Bowie staff last spring. After the food tasting, the "By Students for Students" concept was created to give culinary students a chance to create fresh, exciting recipes for high school cafeterias across the district.
"Having nutrition and learning constantly intertwined is important for the district and the students it serves," said district nutritionist Lorin Cheung.
The concept of "By Students for Students" doesn't just mean current students either. The motto applies to former students, too, like Aziz and Elizabeth Kobty, who own and operate their family's restaurant, Prince Lebanese Grill.
"It's amazing to be able to give students the opportunity for culinary experience and education because those things are important to our family," said Aziz Kobty. "When Mr. Lewis presented this opportunity to us, we couldn't say no. We love making school lunch fun and can't wait to share delicious food with the kids."
The Kobtys have been a community partner by implementing a chef practicum program and local hospitality scholarship for Arlington ISD students. The Kobty family partnership will continue with healthy Mediterranean-inspired dishes in district cafeterias.
Sam Houston High School students in Ronda Sherrill's culinary class have a couple new menu items hitting the cafeteria soon, too.
"You're not going to be able to learn unless you're fed," said David Lewis, director of food and nutrition services. "It's critical to bring awareness to what our district is serving kids in the cafeteria to help them succeed."
For a glimpse into the kitchen with Lewis and the Kobtys, check out the Facebook Live video here.