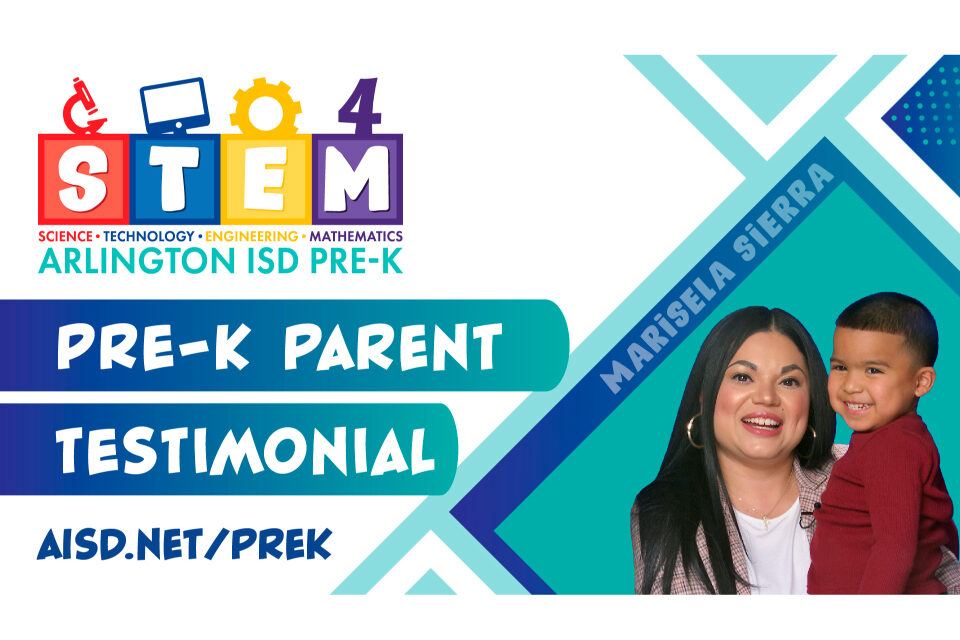 We're a little biased.
We think Arlington ISD's pre-K is simply the best out there.
And it's getting even better. The already outstanding pre-K 4 curriculum is getting even more inspiring with more STEM. And for the first time, pre-K 4 will be free and open to all 4-year-olds.
Our pre-K teachers and administrators could not be more excited about pre-K because they know the incredible impact it has on our littlest learners – preparing them for kindergarten and the rest of their lives.
But don't just take our word for it. Hear what Arlington ISD pre-K parents have to say. Watch the videos below and hear from pre-K parents – one in English and one in Spanish. Then read a few more parent testimonials from Bryant and Thornton elementary pre-k parents.
Sandra Vergara, Bryant Elementary pre-K 4 parent
Sophia has always been a smart girl but attending pre-K has expanded her vocabulary a lot more. Within a week she learned how to write her name and a few sentences in her journal, something that she was struggling with at home. She has also become very social. She talks about how awesome her teachers are and all the friends she's made. Sophia has also improved a lot in her behavior. Prior to attending pre-K, she was not very good at sharing her toys, taking turns or following directions. She now understands how to be patient and wait for her turn. She also learned how to be more respectful and understanding.
Adriane Holmes, Bryant Elementary pre-K 4 parent
Since being enrolled in pre-K 4, Ariana has made lots of friends and talks about them all the time. She has learned songs, hand gestures and dance moves. Ariana always talks about going to school even when it's the weekend. 
Phoebe Cao, Bryant Elementary pre-K 4 parent
Prior to pre-K, our daughter was very shy from her social skills, ABC alphabets, and numbers.  Also, she would not know how to spell or write her own name. Since she is in pre-K, I have noticed significant improvements with her. Not only can she play along well with her classmates, but she can also recite ​all the alphabet, letter by letter. She can count from 1-10 and beyond and write her name, too. She shows it off to her grandparents, too!  In addition, she starts to read simple books to her two older brothers. We are so proud of her progress and appreciate all the efforts and help from her teacher. Thank you so much to all the staff at Bryant Elementary, without them Jenevie would not have gotten to where she is right now.
Mariana Zuniga, Thornton Elementary pre-K 3 parent
I am impressed with my daughter's development thanks to the pre-K program. She entered the program as a baby. She is now following instructions, knows the alphabet, recognizes upper- and lower-case letters. She knows so much that I still can't believe how much she has learned and how much she knows thanks to the AISD preschool program. I am excited about pre-K 4 and how much more she will keep learning.
Marisa Pacheco, Thornton Elementary pre-K 3 parent
My son has learned so much thanks to the AISD pre-K 3 program. I am excited about all that he will learn next school year in pre-K 4. I am happy about this new pre-K model and the opportunity that AISD is giving to all families to get free access to early learning pre-K. Its free! I invite everyone to take advantage of this opportunity, including the Hispanics families.
Enroll Today
If you're ready to be a happy pre-K parent, too, and enroll your child in Arlington ISD's best-in-class pre-K 3 or pre-K 4, or if you just want to learn more, visit aisd.net/prek. And if you have any questions, don't hesitate to call (682) 867-9418 or e-mail prekquestions@aisd.net.