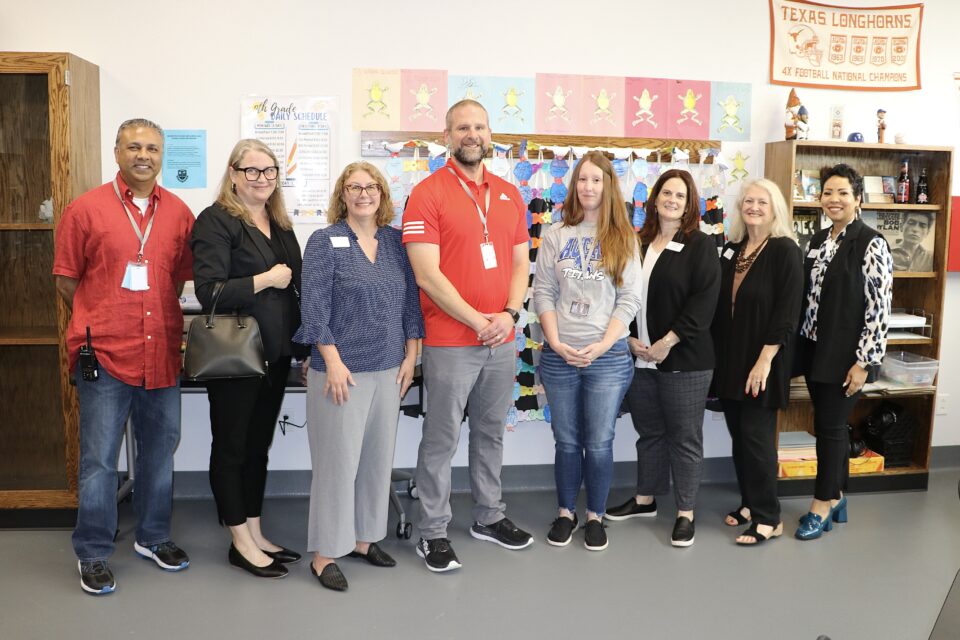 Teachers completed 18 hours at UTA to teach dual credit
The surprise visit with balloons was a nice way to end the year. Actually, to end the last two years.
It's been two years of hard work that three Arlington ISD teachers were celebrated for last month as the school year came to a close.
Jeanne Maxwell, Arlington ISD coordinator of postsecondary partnerships, and several of her teammates walked into the classrooms of Misty Mellor at Arlington College and Career High School, Travis Canon, also at ACCHS, and Sandra Miller at Lamar High School unannounced, bearing balloons. They were there to congratulate the teachers for completing the requirements of the Dual Credit Faculty Expansion Grant.
"We're so proud of you," said Brenda Lohse, the district's coordinator of fund development, to Mellor in her classroom. "It was an undertaking because at the beginning we didn't know how this was going to play out … Thank you for just sticking through and making it happen."
Mellor – and Canon and Miller – completed 18 hours of courses at UT Arlington to earn their postsecondary credential to teach dual credit classes. The grant from the Texas Education Agency reimbursed them for their tuition, textbooks, fees and mileage. It's part of a partnership among Arlington ISD, UT Arlington and Tarrant County College District and makes them eligible to apply to be embedded instructors at TCC.
"We know that going to school and teaching full-time and all the other things that are part of life are really difficult, and you persevered through all of it with grace and we are very proud of you," Maxwell said to Canon as several of his surprised students looked on.
The purpose of the grant program was to increase the number of educators eligible to teach dual credit courses on high school campuses in order to expand academic pathways, including offering dual credit courses, for students.
As the district offers more dual credit courses, particularly at ACCHS, Arlington Collegiate High School and the four P-TECH programs, having the teachers certified to teach these college-level classes is imperative. With dual credit teachers embedded in the high school faculty, scheduling those classes is much easier and it expands opportunities for students.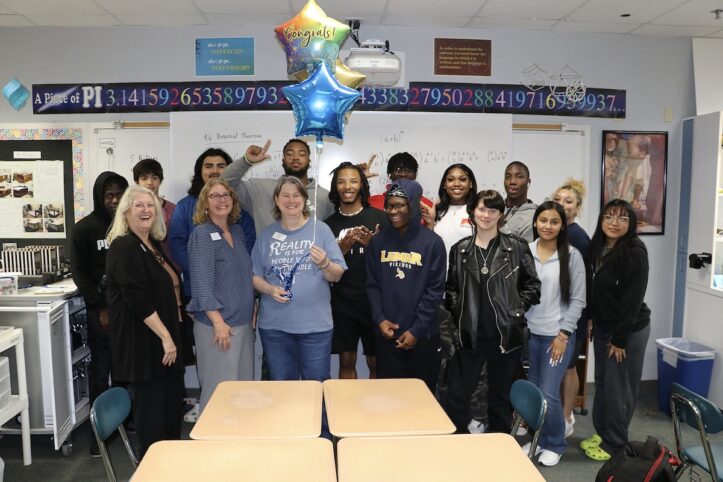 "We are very excited to have dual credit professors embedded in our Lamar staff," said Carolyn Longoria, Lamar P-TECH assistant principal. "As you can imagine, coordinating college schedules and high school schedules, as well as transportation between the two campuses can be challenging and could limit other opportunities for a student at their home high school campus. Embedded professors allow the high school to more easily provide college instruction on the high school campus that works within the students' desired schedule but still maintains the high academic standards and credentialling required of staff members teaching for the college."
Case in point – thanks to Miller's new dual credit certification, Lamar P-TECH students will get to take dual credit math with Tarrant County College in the fall. Miller, of course, will be the professor.   
"I've always thought that high school students deserved to be able to take math dual credit as well as the other dual credit courses we offer, but I never thought I'd have the chance to be one of their teachers," Miller said. "I'm really looking forward to starting this process with our P-Tech kids this fall."
In addition to expanding dual credit opportunities, the three teacher's coursework and certification also improve the quality of instruction for students.
"It's a real benefit for students to have teachers who understand both teaching high school and college rigor," said Traci Thomas-Bragg, Arlington ISD's director of postsecondary partnerships.
As it turned out, it was also beneficial for the students to simply see their teachers continuing their own education.
"I was thankful for the grant," Mellor said. "It allowed me to continue my education in order to be able to teach dual credit science in the future. It was also great for the ACCHS students to see their teachers being students. They would often ask me and Mr. Canon how our classes were going, and they celebrated with us upon completion."