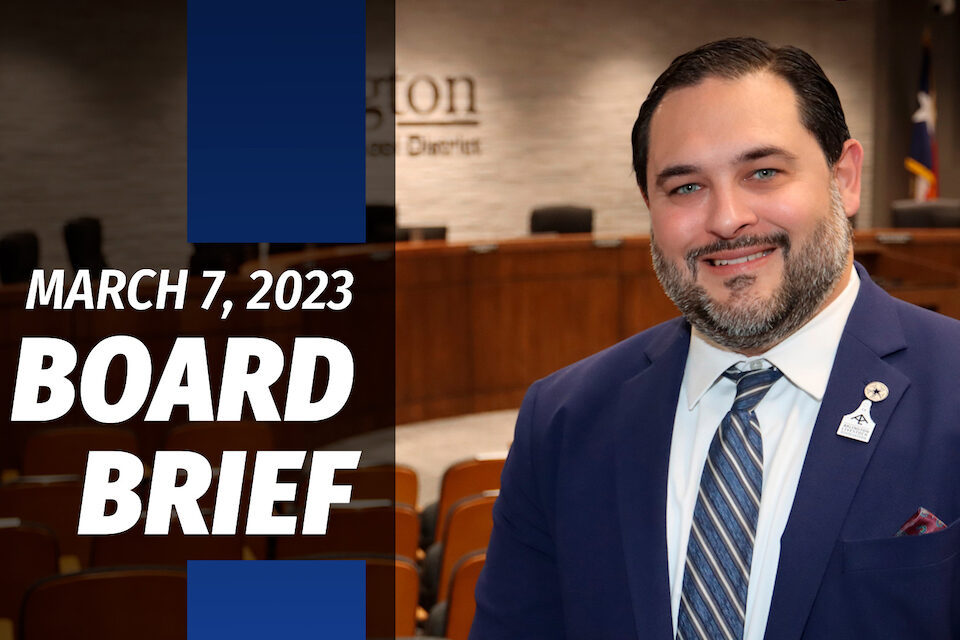 Trustees approve notice of election for May 6
Arlington ISD's Board of Trustees meeting on March 7, 2023, is in the books, and here are a few of the highlights. This meeting was originally scheduled for last week, but severe weather last Thursday pushed it back.
This may have been the cutest board meeting of the year thanks to a surprise appearance by about 20 first graders from Corey Academy of Fine Arts and Dual Language. They've been learning different piano pieces and learning about the composers who wrote them, including Johann Sebastian Bach, whose birthday happens to be in March. So, led by their teacher Tena Phelps, they opened our board meeting by performing Bach's Minuet in G Major via video and dressed in period wigs and sunglasses! When the video performance concluded, that's when the students walked into the board room and surprised the trustees. And they were wearing their wigs and sunglasses!
Then the board had a lot of high school students to honor, starting with the students of the month for February and March. This month, it's Sam Houston High School senior and captain of the baseball team Adrian Correa. Correa is in the top 2% of his class and has many college offers. The senior class treasurer is also a TCU Community Scholar finalist.
February's student of the month is Martin High School's Aaron Kelly. Aaron excels in computer science and math and competes on Martin's Computer Science team and Robotics team. He's also a National Merit Semifinalist who made a perfect score on all eight of the AP tests he's already taken and a perfect score on the ACT. Congrats, Adrian and Aaron.
Then the trustees continued what they started at the last board meeting – honoring and celebrating the district's students who were named National Merit Semifinalists or received National Hispanic Recognition, National African American Recognition and National Indigenous Recognition. There are so many nationally-recognized students this year that it took two board meetings to honor everyone. Tonight, the board honored students from Arlington, Lamar and Martin high schools.
The board did have some business to attend to as well. First, it approved the notice of election for two places on the Arlington ISD Board of Trustees. The election is May 6 to fill three-year terms for places six and seven on the board.
The trustees later also approved the monthly financial report on operations and the district's investment activity report through January.
Finally, each month the trustees approve donations made to the district, and one tonight was especially interesting. Detroit Pistons basketball player Cade Cunningham, the number one pick in the 2021 draft, donated $20,000 to Larson Elementary and Barnett Junior High to establish Cade's Care Closet, a room in each school that will provide students with toiletries, hygiene products and non-perishable snacks. Cade is a former student at both of those schools and recently visited to announce the donation.
Those are just a few of the highlights from the meeting. If you would like more details on any of these, or any of the items not covered in this brief, please click here to watch the entire meeting.