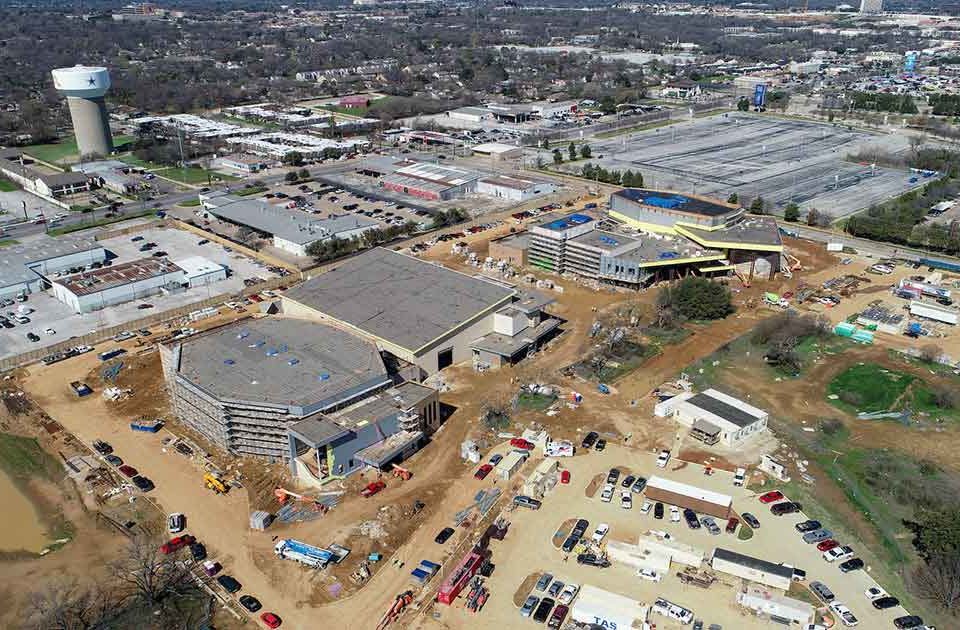 Construction On Pace Despite Coronavirus
Though Arlington ISD schools are closed for COVID-19, bond-funded construction projects – including those in construction and those in design – are continuing.
The Arlington ISD's facilities planning and construction department, which directs and oversees all district construction projects, is operating normal workdays in an effort to keep projects on schedule. The department is taking extra precautions though, like minimizing face-to-face meetings and allowing certain employees to work remotely when possible.
Projects currently in construction, including the final projects of the 2014 Bond and the first project in the 2019 Bond, are proceeding as planned.
The Future of Arlington ISD Coming Together
"Projects such as the District's Fine Arts and Athletics Complex and the Gunn Fine Arts and Dual Language Academy will continue to move forward," said Kelly Horn, AISD executive director of services services, "provided the construction work force is not unavailable or diminished due to current health concerns affecting our community." (Read Horn's full statement below.)
Likewise, projects in the 2019 Bond that are in the design phase are moving forward as well.
"Most design processes can be carried on remotely and through virtual design meetings," Horn said.
That includes the design of new elementary playgrounds (read more about the playgrounds) and the design of the future Webb Elementary (read about recent Webb Elementary design charrettes).
Two other phase one projects in the 2019 Bond are still scheduled to bid this month: Food Service Center renovations on March 24 and Crow Academy addition and renovations on March 31.
Learn more about all 2019 Bond projects at aisd.net/bond2019.
Full statement from Kelly Horn, AISD Executive Director of Facility Services:
"The Arlington ISD's facility services team is continuing to report to work to maintain critical operations. Our employees will continue to repair, clean and disinfect district facilities to help create safe learning and work environments for our students and staff. The district is also continuing its construction efforts to keep projects on schedule for successful completion. Projects such as the district's Fine Arts and Athletics Complex and the Gunn Fine Arts and Dual Language Academy will continue to move forward provided the construction work force is not unavailable or diminished due to current health concerns affecting our community. The same can be stated for all 2019 Bond program projects that are in planning and development stages. Most design processes can be carried on remotely and through virtual design meetings. The district has already rearranged meetings for facility services and facilities planning and construction personnel to be virtual and is allowing certain employees to work remotely, when possible. We will continue to serve our community and support the guidance and direction of our public health officials as health conditions change."