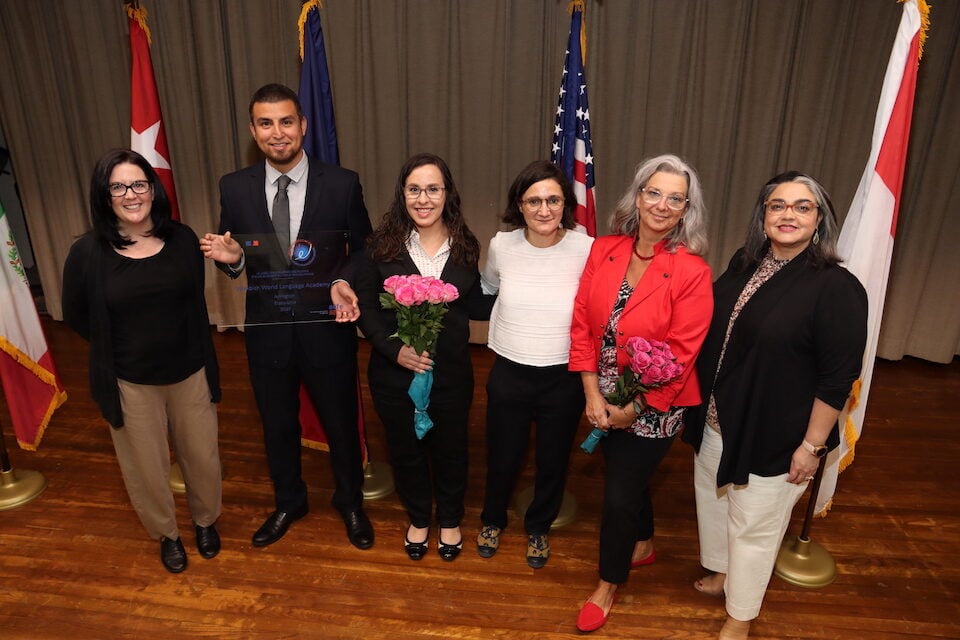 Wimbish World Language Academy keeps adding to its impressive resume as a school that provides a unique learning experience for students.
Now it has another honor to show for it.
The Arlington ISD school was presented a plaque by the Agence pour l'enseignement français à l'étranger, better known as the Agency for French Education Abroad, for its excellent standards in the French immersion program.
The French Ministry of Foreign Affairs grants the LabelFrancÉducation title to schools worldwide promoting the French language and culture, and it recognizes outstanding education in French among students and parents. The LabelFrancÉducation committee recently published the 2021 list of recognized schools, and Wimbish is now part of the network comprised of 523 bilingual schools in 62 countries.
Since its launch in 2012, the LabelFrancÉducation recognition has only been given to 55 schools in the United States.
"We're really excited about the work that we're doing here at WWLA," said Principal Manuel Trevino. "Getting this title entailed strong fidelity, best practices within French teaching and lots of cultural integration for our students."
Beyond the recognition of quality, the LabelFrancEducation is also an important tool to guide and support French bilingual schools. These schools are offered unique opportunities such as professional development training for teachers, teaching resources and interventions by French artists and authors. 
"I'm so proud to be able to acknowledge the results of this school's hard work in the French program," said Bettina Gardelles, a representative from the Ministry of Europe and Foreign Affairs. "There are only two schools in Texas receiving a label this year, and I'm excited to be able to present the first award to Wimbish.
"We hope that the quality and support that the French Embassy offers will encourage other schools all over the district to enhance their French programs and to apply for the LabelFrancEducation in the future."
In addition to French, Spanish and Mandarin are also offered as dual languages at Wimbish. The cultures and languages students are being immersed in provide lifelong skills that will broaden their horizons and improve their futures. From kindergarten to 12th grade, Arlington ISD aims to provide a unique education that will propel your child into success. For more information on how to enroll in specialized programs in Arlington ISD, please visit aisd.net/specializedprograms.