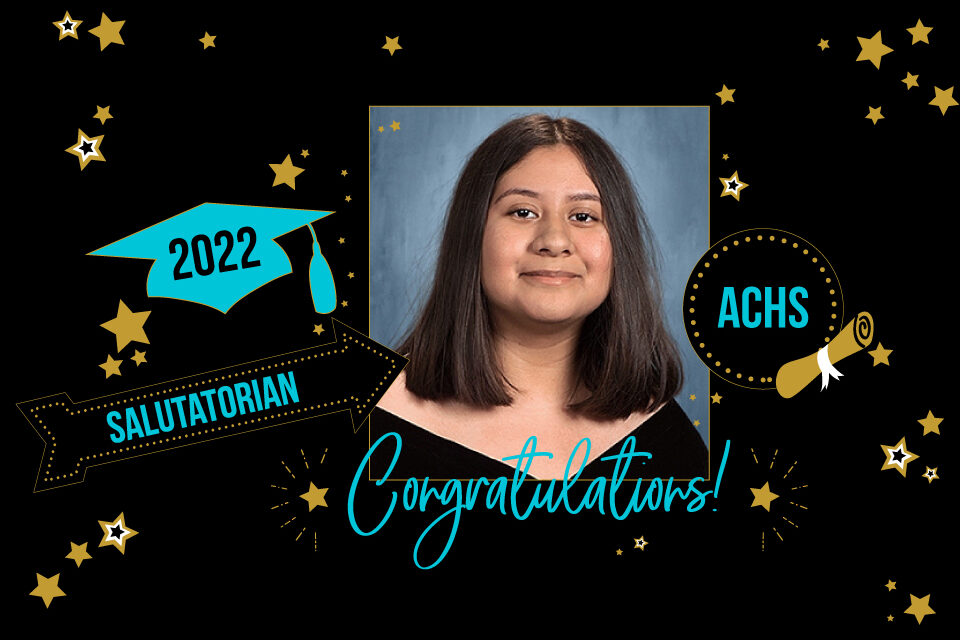 In the week leading up to Arlington ISD graduations June 7 and 8, we are celebrating the Class of 2022 valedictorian and salutatorian for all seven Arlington ISD high schools.
Name: Angela Rios, Salutatorian
School: Arlington Collegiate High School
College: Texas Christian University
Intended Major: Biology
What is your dream and how do you plan to make it come true after graduation?
My dream is to be a family medicine physician in the future. I have always wanted to work in the healthcare field to help people. My plan is to make this dream come true by attending TCU in the fall to pursue a pre-medical route.
Who inspires you the most?
My parents inspire me the most. They have always worked hard to provide everything for my siblings and me. They make time to be there for us every day. My parents inspire me to work hard in school to achieve my goals, and they have helped me get to where I am today by supporting me along the way.
What is one piece of advice you would give an incoming freshman?
One piece of advice I would give to an incoming freshman is to protect your GPA as soon as you start high school. It may seem like grades are not as important during freshman year but doing well in your classes will help when you apply to colleges and scholarships later. I would also say to take care of your health and avoid being stressed all the time about school work. Make memories during your time in high school because those four years will pass by quickly.
What's been your favorite high school memory?
My favorite high school memory has been going to UT-Arlington during my senior year to take a psychology class. I had the opportunity to experience life on campus, and I enjoyed exploring the campus, studying in different places with my friends, and learning interesting things in my class.
How do you plan to make an impact on society in the future?
I plan to make an impact on society in the future by helping people in my community through my career as a physician. Medicine plays an important part in the lives of people, and I want to be able to help patients with their health. Being there for people in need and providing support to them is also important to me, so I plan to volunteer with organizations to provide care to families in need once I become a physician.
What her teacher said …
"Angela Rios is one of the hardest working students that I have ever had. Her calm and motivated demeanor is refreshing and admirable." – Gerardo Gonzales, advanced algebra II teacher
Can't make it to graduation but still want to be a part of the special day? If you'd like to watch Arlington Collegiate High School's graduation, visit aisd.net/graduation to livestream the ceremony. Be sure to tag @arlcolhs (Facebook) and @ACHS_AISD (Twitter) and use #ArlingtonISD when capturing special moments of your graduate for a chance to be featured on Arlington ISD official social media pages.