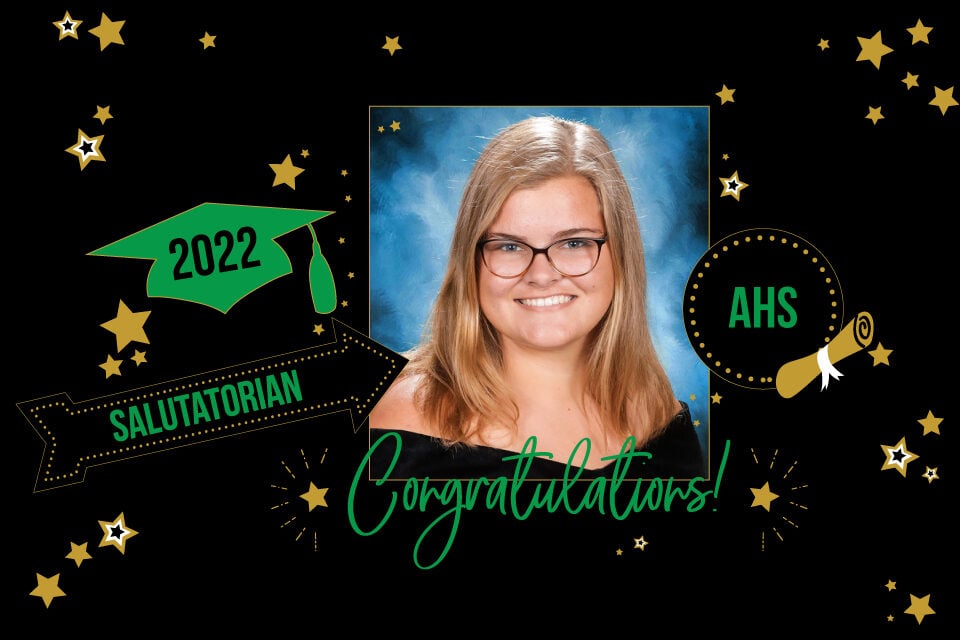 In the week leading up to Arlington ISD graduations June 7 and 8, we are celebrating the Class of 2022 valedictorian and salutatorian for all seven Arlington ISD high schools.
Name: Alison Buer, Salutatorian
School: Arlington High
College: Brigham Young University
Intended Major: Biology
What is your dream and how do you plan to make it come true after graduation?
One thing to know about me that is crucial to my dream is that I love sharks very much. I love them so much that my dream after graduation is to study and research sharks as a shark biologist. I plan to become a shark biologist by working towards my bachelor's degree in biology at Brigham Young University then going on to work towards my master's degree in marine biology at Nova Southeastern University Florida. Another big dream of mine is to keep music in my life as much as possible, whether it is by playing in local orchestras or simply playing for fun. Music makes me happy, and I aspire to be happy as much as I can.
Who inspires you the most?
My parents inspire me the most in my life because of the example that they set for me. They show me what it is like to be a true leader and friend to everyone. They have encouraged me to discover for myself what I love to do and have supported me every step of the long journey I went through. Even throughout my years in school, they have always pushed me to do my best on every assignment and do every extra credit opportunity to teach the importance of education, hard work and dedication. I hope to be just like them someday because they are truly the best parents for me.
What is one piece of advice you would give an incoming freshman?
As an incoming freshman, it may seem like everyone is judging you for everything you do. Trust me, I felt the same way. In reality, everyone is trying to figure themselves out and how to function in a huge school with large groups of people. With that being said, branch out of your comfort zone and take classes you would have never previously thought to take, and talk to new people outside of your normal friend group because you may find a new close friend that way! Overall, just remember it's your high school experience, you choose how your time in high school will be spent, spend it wisely and make the best of your time there.
What's been your favorite high school memory?
My favorite high school memories were of every marching band competition. I have a lot of close friends in band, so it has been super fun to spend the entire day with them performing music. I absolutely loved being in band for the past four years, and competition days, though long and hot, were my favorite days because of the amount of music I got to take part in and the time I got to spend with my closest friends. I loved performing my heart out to an audience and feeling the satisfaction of all the countless hours of practice finally paying off as the crowd cheers at the end of a performance. I wish I could perfectly describe that feeling of pure bliss and euphoria after finishing an amazing run of the marching show while standing completely still on the field breathless and beaming, sweat dripping from your forehead, but I could not give it the justice it deserves.
How do you plan to make an impact on society in the future?
As a shark biologist, I'm not going to make a groundbreaking medical discovery or solve world hunger, but I will be able to make an impact on society by inspiring others to follow their dreams. Although it may be hard at times, life is a choose-your-own-adventure game and there is no specific criteria for individual success, so by inspiring others to follow their dreams and work hard to achieve their full potential, I will hopefully impact society in a positive way. Just like high school, everyone is trying to figure out themselves and what they want to do, so the best I can do for people is to set an example that others will want to emulate, just as my parents and many others do for me.
What her teacher said …
"Alison is the perfect example of COLTS Family! Commitment is her middle name. She owned her academics, was loyal to her teachers and extracurricular activities, and showed her toughness both pre- and post-pandemic and during marching band season. She continued to be selfless by giving up her off period to help the symphonic band by learning a secondary instrument. Her impact at AHS, in the spirit, pride, tradition, and in my life will be felt and remembered for years to come." – Nathan Burum, band director
Can't make it to graduation but you still want to be a part of the special day? If you'd like to watch Arlington High School's graduation, visit aisd.net/graduation to livestream the ceremony. Be sure to tag @ArlingtonHighTX (Facebook), @ArlingtonHigh (Twitter) and @ahs_colts (Instagram) and use #ArlingtonISD when capturing special moments of your graduate for a chance to be featured on Arlington ISD official social media pages.