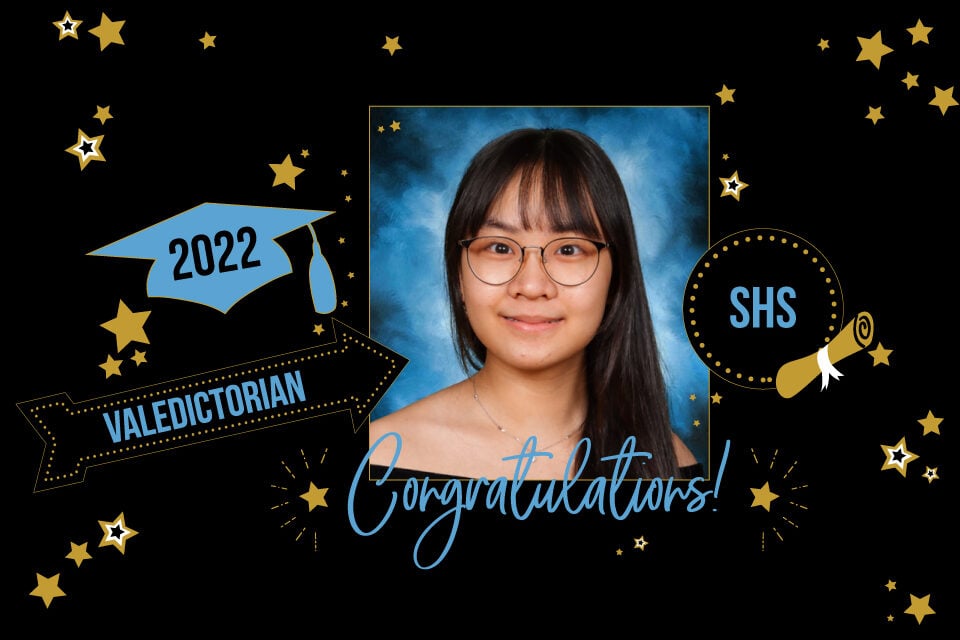 In the week leading up to Arlington ISD graduations June 7 and 8, we are celebrating the Class of 2022 valedictorian and salutatorian for all seven Arlington ISD high schools.
Name: Nhi Dinh, Valedictorian
School: Seguin High School
College: UT Arlington
Intended Major: Biology
What is your dream and how do you plan to make it come true after graduation?
My dream is to have my artwork in a museum somewhere. Although I am not actively pursuing art, I think I will still be drawing and painting after graduation — for fun. It would be nice to leave a piece of me here on earth. To be honest, I don't have an elaborate plan to make this dream come true; I imagine my high school art teacher would one day auction my art, which would then introduce it to the world and hopefully get it to a museum. 
Who inspires you the most?
My dad really inspires me. He is a man who is especially talented in sewing and making things; I think my artistic side came from him. Seeing him create all of my dresses out of a yard of fabric has taught me that beautiful things can be created from so little. He fuels my passion for creation and art, and I strive to surpass him one day. For now, I still need to ask him for help whenever I am on the sewing machine.
What is one piece of advice you would give an incoming freshman?
You only live once. Start doing things and stop hesitating. Whether it be putting the first paint stroke on a new canvas (it can be scary, I know), going first to present, or jumping into a pool when you don't know how to swim (this happened, yes), it's better to get it over with quick rather than waste precious time hesitating. If you know you're going to have to do something, you might as well do it right away and shake away the anxiety before it eats you up. 
What's been your favorite high school memory?
My favorite high school memories include the days when my physics teacher would give us our exams back for us to see our grade. The class would laugh and cry together because we all failed. On a more serious note, I had a lot of fun in my physics class. There was this one day where our teacher brought in a guitar and sang to us that everything would be okay. Everything that happened in there is a precious memory of mine.
How do you plan to make an impact on society in the future?
I want to make an impact on society through art. Whether that is through the art of medicine, teeth or paintings, I want to use my skills to help others. For now, I will be pursuing a career in dentistry. I want to help others attain a smile they are confident in so that they can comfortably express themselves when they are doing the things that bring them joy.
What her teacher said…
"Nhi is highly persistent and constantly applies herself wholeheartedly to anything that aligns with her passion. In times of difficulty, she is the rock that epitomizes cool, calm and collected. She is honest and will never let you down regardless of any circumstances. It was an honor to have her as a student, and I will miss our in-class discussions about life." – Zach Ammons, AP Art Drawing.
Can't make it to graduation but you still want to be a part of the special day? If you'd like to watch Seguin High School's graduation, visit aisd.net/graduation to livestream the ceremony. Be sure to tag @SeguinHS (Facebook) and @JuanSeguinHS (Twitter) and use #ArlingtonISD when capturing special moments of your graduate for a chance to be featured on Arlington ISD official social media pages.