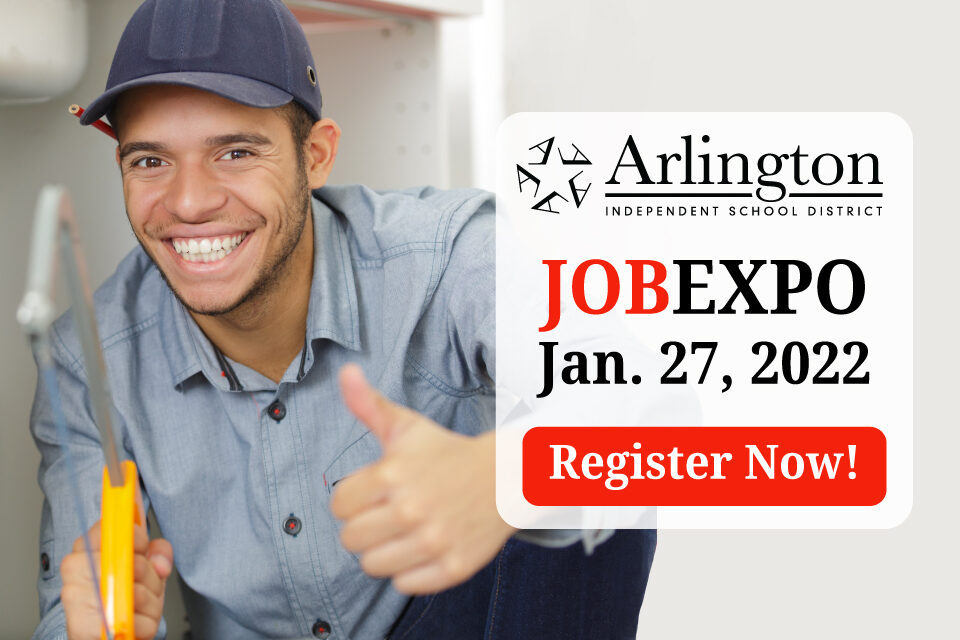 Start a new career in Arlington ISD!
Ringing in a new year means new goals, new ideas and new beginnings, and a new job is the perfect way to start 2022 off with a bang. Now's your chance to secure a new position at the Arlington ISD Job Expo on January 27 from 5-8 p.m. at the Dan Dipert Career and Technical Center (2101 Browning Dr. Arlington, TX 76010).
Hiring managers and representatives from various departments will be in attendance to conduct on-the-spot interviews with candidates. This includes food services, facility services, security, transportation and school campuses across the district, too.
"We believe the job expo is your chance at a fresh start," said Michelle Trussell, Arlington ISD's human resources manager for recruitment and substitute services. "Every department with an opening will be present at the expo, so now is the perfect time to join the Arlington ISD family and make a difference in your life and the community."
Parking will be available in the front and back lots of the CTC. Remote parking will be available at Rankin Elementary. Please do not park on the streets in neighborhoods adjacent to the CTC as towing is enforced by the city of Arlington.
Apply Online
Before heading to the job expo, apply online at aisd.net/jobs and register for the event on Eventbrite today! There is no limit to the amount of jobs you can apply for, so create a candidate profile and apply to every position you're interested in.
Come prepared with multiple copies of your resume since you will have the chance to speak with multiple hiring managers regarding new opportunities in the district. Face masks and social distancing are encouraged but not required at the job expo.
So what's the hesitation? If you're ready to make this an unforgettable year by starting your dream job, then join Arlington ISD for the job expo on January 27. Your future starts now!