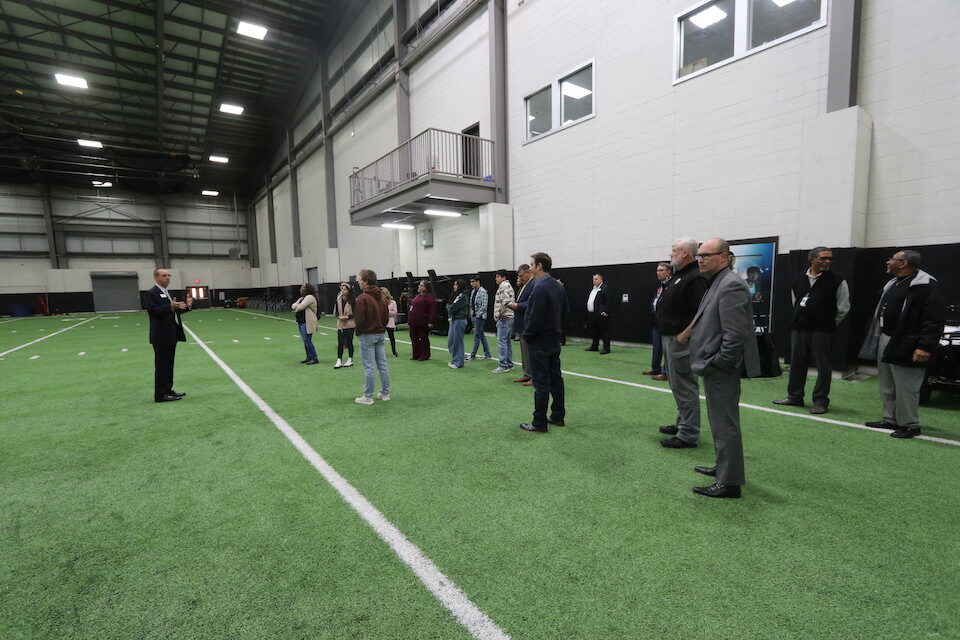 Citizens Bond Oversight Committee holds quarterly meeting
The Citizens Bond Oversight Committee met at Seguin High School Thursday night for its quarterly review of the 2019 Bond program.
But the meeting started with a reminder of the 2014 Bond and the impact it is having at Seguin and across the district. The committee received a tour of Seguin's Multipupose Activity Center – or MAC. The facility, built with bond funds, includes a 60-yard turf field, weight room, locker rooms, coaches' offices, meeting rooms and a training room.
While the field is excellent for football, it is truly meant to be multipurpose, marked for football, softball, baseball and soccer, and it's a great space for marching band practice. Drop-down nets can divide the field into sections, allowing multiple sports or activities to meet or practice simultaneously. All six traditional high schools in the Arlington ISD received a MAC during the 2014 Bond program.
Following the tour, Arlington ISD assistant superintendent of facility services Kelly Horn returned to the present and gave the committee a presentation with status reports about 2019 Bond-funded projects for facilities, fine arts, technology, security and transportation.
Recent highlights from the bond program include the opening of the new Webb Elementary, the start of construction for an addition at Arlington High School, new theater lighting and sound equipment for junior high and high schools, more new playgrounds at elementary schools and the receipt of all phase two new buses for transportation.
The CBOC's job is to follow the district's bond program progress and report its findings and recommendations to the Arlington ISD Board of Trustees (read the CBOC's charge). The committee meets on a quarterly basis to receive updates on implementation progress of the bond and then develops an annual report of its finding and recommendations.